How we act as an investor
Responsibility & Sustainability
Paragon is committed to a sustainable investment approach. We integrate environmental, social and corporate governance (Environmental, Social & Corporate Governance, ESG) considerations into our investment decisions and incorporate our sustainability standards into the management of our portfolio companies.
We are convinced that the implementation of high ESG standards minimizes business risks, leads to cost savings and consequently creates sustainable long-term value. As part of these efforts, we raise awareness among our management teams for the relevance of ESG aspects and support them in the continuous improvement of our companies with regards to ESG topics. Our commitment includes both the compliance with principles of sustainable investments in our portfolio firms as well as holding ourselves responsible to these standards.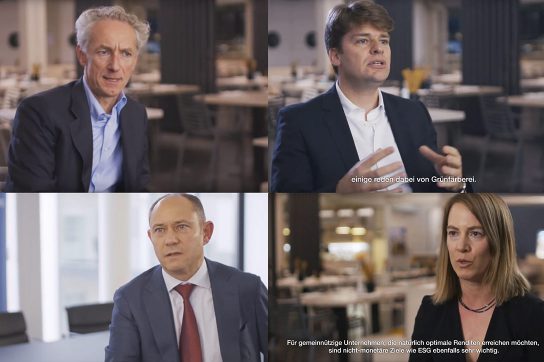 ESG at Paragon
An interview with Paragon and our companies
Environment
Prevention of
environmental pollution
and reduction of
CO2 emissions
Social Aspects
Working conditions,
health and safety
at the workplace,
and anti-discrimination
Corporate Governance
risk management,
anti-corruption policies
and compliance
with ethical standards
Carbon Neutrality
Paragon has accounted for its direct and indirect carbon footprint since 2019 and systematically offsets it through environmental projects. The Myclimate Foundation has supported us in these efforts and ultimately certified us as a climate-neutral company. We calculate the carbon footprint according to the provisions of the Greenhouse Gas (GHG) Protocol (WRI and WBCSD, 2004), which takes into account all direct greenhouse gas emissions, all indirect emissions from the use of electricity, district heating and cooling and all additional relevant indirect emissions.
Legal Ombudsman and Whistleblowing-System
Paragon and its portfolio companies firmly reject and take action against any form of corruption, fraud and any other kind of criminal offence or violations of law. The appointment of an external lawyer as a legal ombudsman is one important element of Paragon's compliance management system to prevent, detect and respond to criminal offences and breaches of rules. Internal and external whistleblowers can confidentially reach Attorney-at-Law Dr. Rainer Frank via ombudsperson-paragon@fs-pp.de, +49 (0) 30 31 86 85-933 or via an anonymous online whistleblowing system.